Patti's friends know her as an amazing cook. Here you'll find some cooking experiments, beautiful photography, among other things!
Meet EV!!!!  I just realized it has been 6 months since my last blog!  YIKES!!!  I have actually prepared some good food in that time………we might have to address the air fryer poutine in the future.  Yet again I am sidetracked.  So this is our new forever friend EV_OO.  I wanted a name that would have some "nod" to our previous forever friend Olive whose time cut short from complications to Addisons Disease.  EV came to us from a wonderful breeder near Brainerd MN and if anyone is on the look out for a Poodle, a Cavapoo...
read more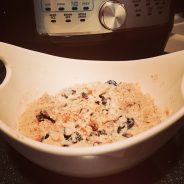 Alright so the most recent craze in cooking gadgets (at least to my knowledge) is something called an instant pot (or in my case a Pampered Chef Quick Cooker). It is essentially a multi purpose tool. Any brand that makes them has several features. Generally they sear, slow cook, and best of all take old time on the stove pressure cooking into a much safer realm!!! No green beans on the ceiling in this house!!! I think calling them instant pot is a bit misleading. When you are cooking a roast and other things it is quite quick compared to...
read more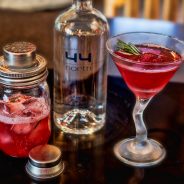 Ok so enough with the food.  It is another very cold (but very sunny) Northern MN day and so I think we need to get our feel good spring and summer feel on!  I have noticed that this year, the fresh raspberries and blackberries have looked good in our local Walmart even!  Costco always has a nice selection of fresh lemons and limes!   All that  is a bonus considering when I woke up it was -9 with 40 mph winds and the forecast for the next ten days is not any better. How I came about making this Huck-Raspberry Martini is a combination of two...
read more
I spent a large portion of  my life in Eastern WA.  I don't think during those years (1979-1995), I appreciated exactly what that area has to offer on so many levels.  Some of the best vineyards creating award winning wines , beautiful flowers whose season lasts  more than two months and the produce.  OH THE PRODUCE!!!!  Last fall, when my husband and I were in the Tri Cities for a visit, we finally made it to the Richland Farmers Market.  https://www.facebook.com/MarketAtTheParkway/ I was just in awe of everything I saw.  And the end...
read more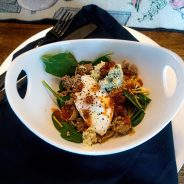 Yesterdays lunch got switched up a bit today.  I removed the fries and went with Tator tots (or roundabouts as they are known in my Lamb Weston family).  Roundabouts (the potato kind not the devil ones you encounter on the road these days) are flatter than your tator tot and this lends it to a really good base for lots of things!!!https://lambweston.com/product/detail/A26 I made pork carnitas the other night and we had a lot of leftover pork.  (Not a bad thing it is REALLY REALLY good and someday I should add that recipe to the blog!) I was...
read more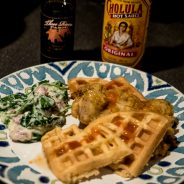 I've traveled here and there over the years.  I've watched a lot of cooking shows and it all kept coming back to this southern phenomenon I could not shake.  I'd thought about it for years, seen it on billboards and finally this winter in the winter of #eatingmywaythruwinter I made it a reality!  I have to say I was pleased.  It is a good comfort food on a cold MN winter, so I think the southerners are going to have to give it up for Northern Chicken and Waffles.  Trying to decide what vegetable to side it with was a little...
read more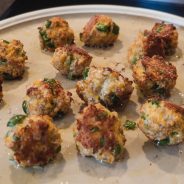 First, I'd like to start by talking about blogs.  I have a sister who says she hates blogs.  She just wants to get to the recipe and get on with it.  Doesn't need to read a lot of inconsequential fluff.  I do agree with how she feels, I find myself scrolling down to find the "meat and potatoes" of the blog and what I am looking for.  That being said,  I'm blogging and jabbering.  Feel free to scroll down to the "meat and potatoes" but I must warn you…unlike most recipe bloggers, I rarely have...
read more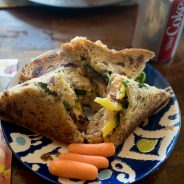 Today lets talk Cheese.  I talk a lot of cheese, it is one of my most favorite food groups!!!  So let's talk Mac N Cheese and homemade like pretty much from scratch!!! I went to the work of making homemade macaroni noodles!  It is a little time consuming (ok pretty much a lot of time consuming but it is cold out so I had time!) but the bite that you get from homemade macaroni noodles so much better than the boxed.  Boxed works just fine as well though. I won't bore you with the details of how to make those, that can be for a new...
read more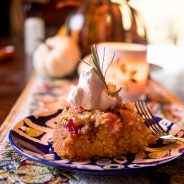 Yesterday was a very pleasant mid fall day.  The sun shone bright, the wind was lite and the temps managed to squeak up higher than the predicted 38F. I decided it was a perfect day to make a pineapple upside down cake in my favorite vessel for this.  My trusty Cast Iron Skillet. I remember the first time I made an upside down cake in the skillet.  I was terrified that it would get stuck.  I'm pleased to report that has never been an issue.  I have lost a couple pieces of pineapple on occasion but it is an easy fix to pat them back in....
read more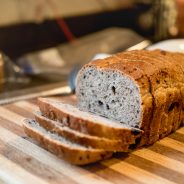 "Good bread is the most fundamentally satisfying of all foods; and good bread with fresh butter, the greatest of feasts." ― James Beard The bread shown in the above picture is not actually Cranberry Wildrice Loaf, my bad.  Actually, it is my good!  Earlier this fall, I started playing with Wildrice Cranberry bread and figured it was such a GREAT recipe, I'd like to see what it does with blueberries instead of the cranberries.  I remembered to grab the camera and I'd been promising to blog about that recipe so here it...
read more
"A tomato may be a fruit, but it is a singular fruit. A savory fruit. A fruit that has ambitions far beyond the ambitions of other fruits. E. Lockhart " I'm not someone who lives and breathes soup.  I think it  definitely has its place in the culinary world but soup is rarely my top choice for a meal (unless we are talking chili of course).  Fall days in Northern MN call for comfort food and on the particular day I made this soup, comfort was in high demand! I started out with the ultimate food.  Bacon (because...
read more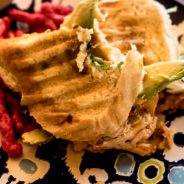 Tonight we went with Buffalo Chicken On Sourdough.   Again, my husband is not a huge fan of chicken or buffalo sauce,  (Yiphee when he returns we will be blogging about Meat Loaf………)so tonight is my last chance for a few days to get something that's more of a treat for me. I've decided I'm going to add some avocado and smoked cheese to my sandwich.  I decided to do some research on keeping my avocado from turning brown so I could slice it up ahead of time.  This is what I found...
read more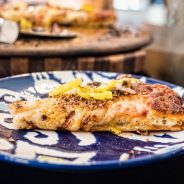 I don't believe it myself………..what's not to love about the iconic American food…….second next to burgers.  Well, I'm married to that guy.  On  the rare times the hubby is out of town, I DO PIZZA… It has been a long winter in MN……….but I'm happy to report spring is showing upand yes that comes in the form of a lot of deer poo and yellow grass.  But that showing up is a good sign it, means it is time to  celebrate.  My favorite way to celebrate spring is with a...
read more