Today lets talk Cheese.  I talk a lot of cheese, it is one of my most favorite food groups!!!  So let's talk Mac N Cheese and homemade like pretty much from scratch!!!
I went to the work of making homemade macaroni noodles!  It is a little time consuming (ok pretty much a lot of time consuming but it is cold out so I had time!) but the bite that you get from homemade macaroni noodles so much better than the boxed.  Boxed works just fine as well though.
I won't bore you with the details of how to make those, that can be for a new day but they were made!
So on to the meat (so to speak for this vegan…….actually I'm not sure if it is actually considered vegan……I'm not real versed on what constitutes a vegan dish) of this hearty, feel good food! I began by  assembling the ingredients for the Roo, no no not that but a ROUX!
A roux is typically a sauce thickener that is started with equal parts flour and fat……….my type of fat was butter!  So first I melted equal amounts of butter and flour (I went with 3 tbsp. of each).
After the roux began to bubble I added a 2 cups of milk, but not just any milk………..my milk was partially whipping cream……only because I had it on hand! I let those three ingredients get to bubbling and thicken up a bit before I added some ground nutmeg and paprika.  At this point we have a very nice sauce starting to thicken up so I assemble the other side of the ingredient parade!
I just assembled a bunch of what I had on hand.  The great thing about cheese, is that if it is cheese……..it's good!!!  I used sharp cheddar, pepper jack, parmesan, cream cheese, mozzarella and sharp white Dublin cheese!  These all got dumped into my pot of roux!!!
The cheese starts to melt and I add a few drops of hot sauce and continue to let it all get all kinds of good and gooey!
So will all that continues to melt together it is time to cook my macaroni noodles and assemble everything for the pot and the oven!  I like to keep my noodles cooked al dente so they have some bite and not just slimmy flour mixture!
OK so now just spray down a baking dish (I used tried and true Pyrex) and dump the drained noodles in there and top with the cheese.  I like to do mine in layers and often will add more cheese on top of the layers of sauce and noodles!
Alrighty so than pop that pan in the oven at 350 for about 35-45 minutes or until it looks like you wish it to look like!  Here is what mine turned out to be!
So now that that is finished and you ate, this blog could be over but yaaaaaaaaa .  NOPE!!!  I took my leftover mac n cheese the next day and kicked it up for lunch!
Remember that cranberry wild rice bread I'd blogged about a few weeks ago ?http://piksclicks.com/wildrice-cranberry-yum-yum-bread/  Well what would be better for lunch the day after Mac N Cheese than Toasted Wild Rice Cranberry bread stuffed with home made mac n cheese, spinach and pickled yellow banana peppers?  NOTHING!!!!  So yep that is what we did!  I sliced a couple pieces of bread, smeared it with mac n cheese, tossed some spinach and banana peppers on it and tossed it all in the panini grill!  CAN YOU SAY OVER THE TOP!!!!  I did!!!  And I almost ate the whole thing!  But it is a big sandwich so not for the faint of belly!!!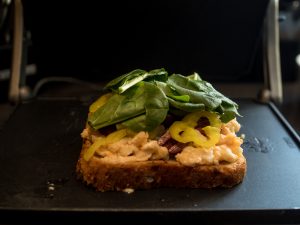 If you are interested in making any of these recipes I talk about but are a little concerned because I don't always type out an actual recipe (cuz that's usually not how I cook) feel free to reach out to me and I can help with that!  Bon Appetite till the next time!