I spent a large portion of  my life in Eastern WA.  I don't think during those years (1979-1995), I appreciated exactly what that area has to offer on so many levels.  Some of the best vineyards creating award winning wines
, beautiful flowers
whose season lasts  more than two months and the produce.  OH THE PRODUCE!!!!  Last fall, when my husband and I were in the Tri Cities for a visit, we finally made it to the Richland Farmers Market.  https://www.facebook.com/MarketAtTheParkway/
I was just in awe of everything I saw.  And the end of September with no concerns that it would be over tomorrow!  I think there last weekend was the end of October but don't quote me on that .  You can follow them on facebook.  The stuff that dreams are made of!  OK three more images………..because I can……… (these were taken with my cell phone so ya)
And this last one from Noah's Waffles…….. Can you say YUMMO!!!  https://www.facebook.com/Noahswaffles/.  I can't remember what exactly I had but it was cheesy and savory and just perfect!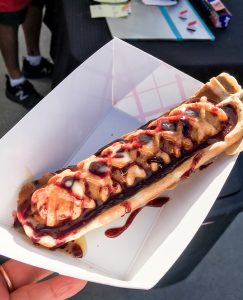 OK so, I sort of got away from the post about asparagus soup.  This  bitterly cold MN January day, you all helped me feel a little bit of sunshine and warmth.  I believe, I believe it will come again!
Yes, Yes on with it already.  So, I think my memory lane came from trying to locate good asparagus off season in Northern MN.  Not easy. So I got the best I could find!  I used about one and a half bunches of asparagus in the making of this soup.  You must first snap the woody ends off your asparagus.  It is not a hard thing to figure out, if you start bending about 2/3 way down it pretty much snaps it self!  So the washed and snapped asparagus are going to take a little trip to the tanning bed (oh my goodness how I wish I was in one!)..  I placed the asparagus on a parchment lined (if I didn't I should have) cookie sheet.  It was drizzled with avocado oil and than sprinkled with fresh lemon juice and kosher salt.  I roasted my asparagus for about 10 minutes in a hot oven at 425 degrees
While the asparagus was roasting I worked on the other ingredients that would be heading into my Quick Cooker (the Pampered chef version of an Instant Pot).I chopped up about 1 1/2 cup of cooked ham, 1/2 of a nice sized red onion and 5 pretty peppers.  The red/orange/yellow small version.
I turned my quick cooker onto the sear function and let it warm up for about 3 minutes.  Drizzle some avocado oil in the base and lets get that ham, garlic, onion and peppers carmelized
Once the asparagus is done roasting and the pepper mixture is smelling great we are going to add some more fresh squeezed lemon (the juice of one) and the asparagus that I've cut into 1′ pieces.  We add 1 cup of chicken stock and a tsp of tarragon and Herbs D Provence.  Place the lid to your quick cooker on and make sure it is ready to cook with pressure.  I used my manual mode and cooked it for ten minutes.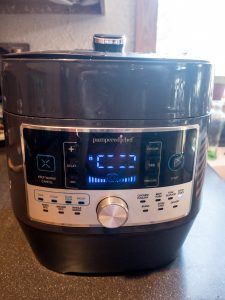 https://www.pamperedchef.com/quick-cooker-101
I used the quick release to get the pressure down. So now it is time to puree the veggies and ham.  I used a hand held emulsion blender right there in the bot of the quick cooker! It worked fabulously.  You don't need everything completely pulped but most of the chunks smooth.
So to this I like to add another 3 Cups of stock , 1 cup of whipping cream , 1/2 Cup of white wine, ( now there has been talk about if you don't drink the wine don't cook with it………well I saved my bottle of Chateau St. Michael for the meal…….and used boxed Chardonnay for the cooking……..but I'm not so snob nosed that I don't drink it from the box as well)   a package of feta cheese (the good kinds, the ones with herbs!) and minced red pepper flakes!  And from this point on the slow cooker portion of the quick cooker does it's job until we are ready to dish us up some yummy soup!
If you wish to roast up the other half of that 2nd bunch of asparagus (or were forward thinking and already did) this is a good time to add it to the soup.  I also like to add some more chopped up colored peppers!  I served my soup garnished with the peppers as well as some flaming hot Cheetos.  (I'm crazy that way…….I love those things in my chili and tomato soup as well).  I added a grilled cheese sandwich made from Cougar Gold Cheddar cheese and pickled banana peppers.  Nothing says a great WA lunch than a glass of chardonnay  from Chateau St. Michael https://www.ste-michelle.com/ to accompany the rest!
Live is too short not to enjoy the things eat and drink.  We do need to make good choices but treating one self to a good meal is one of the best things you can do for yourself and the ones you love.  I hope the rest of you are joining me in #eatingmywaythruwinter and are finding wonderful recipes to get thru it with!  Toss me some ideas!!!  I'm also on the look out for something new to try and twist up!
If you are interested in learning more about all the wonderful things that come out of Washington  state you should check out the facebook https://www.facebook.com/WashingtonGrown/ (and website) of WA Grown http://www.wagrown.com  . They do a great job on featuring so much of what WA produces and they have some great articles, good recipes and wonderful youtube programs.
Bon Appetite (as dad always said "Whoever eats the fastest gets the moistest!)  words to live by ha.  but don't eat so fast you don't taste what is going in there!