Yesterdays lunch got switched up a bit today.  I removed the fries and went with Tator tots (or roundabouts as they are known in my Lamb Weston family).  Roundabouts (the potato kind not the devil ones you encounter on the road these days) are flatter than your tator tot and this lends it to a really good base for lots of things!!!https://lambweston.com/product/detail/A26
I made pork carnitas the other night and we had a lot of leftover pork.  (Not a bad thing it is REALLY REALLY good and someday I should add that recipe to the blog!) I was watching the new episode of WA Grown (shameless plug for my Hashbrown Casserole possibly……. http://www.wagrown.com/recipes/pattis-hash-brown-casserole/ ) and they made a Kahlua Pork French fry dish.  I thought ya, good ideas and lets twist it up a bit!  So this is my twist!
I put about a cup and a half (roundabouts are not easy to measure) in our air fryer and fried them up about 15 minutes.  I love fried food in oil but I'm pleasantly surprised with how well air fryers actually work.  Mine was not an expensive one but it seems to do a great job! https://gazette.com/life/air-fryer-a-healthier-way-to-cook/article_aaf95b90-f97c-11e8-a363-73fb692f0969.html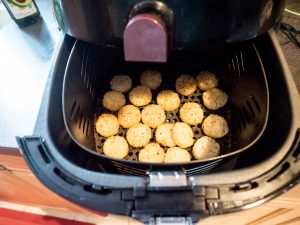 While those were frying, I warmed up in my handy dandy microwave the left over Carnita meat!  I also put an egg in my Pampered Chef Breakfast Sandwich maker to poach.  https://the-gadgeteer.com/2018/07/22/pampered-chef-breakfast-sandwich-maker-review/
You can certainly poach your egg any way you like, heck you could even just fry an egg!!!  But I poached!
Now that those things are done and the roundabouts have come out of the fryer, we assemble!  It is that easy!!  I started by putting down a bed of spinach and topping my roundabouts upon the bed.
Next I topped it with cheese and the meat.  I really think that a nice queso would be great on this and actually any cheese but cheddar is what I had on hand.  In fact, it is a mix of cheddar and jack!
Now I pulled out the poached egg and let it drain
Egg placed on top and than the entire dish was garnished with guacamole, salsa and cholula sauce (there is a theme here).
And there you have it!  Tator Tot ( I really should rename it roundabout but…….) Carnitas Half Boil.   It can also be found through this link https://www.pinterest.com/pin/227854062383340530/  .  I really think the basic recipe is a great base but you surely can change it up as you wish or what is in your fridge (notice I'm not even attempting to spell reeeee….fridge..rator ugh)
Bon Appetite and join me in #eatingmywaythruwinter